*********************************************
LONG ISLAND GENEALOGY
*********************************************
---
STARTING WITH SOME LONG ISLAND GILLETTE FAMILIES
Rev. Elisha Gillette, settled in Suffolk County maybe around 1750.
It may turn out that Elisha came to Long Island at the suggestion or invitation of Gillette relatives already living on the island. We do not yet know what drew him to Long Island.
His background before that was in Piscataway, NJ, (working with the Seventh Day Baptist church there) and in Milford, CT where he was born in 1733. He married twice. First to Sarah Buckingham in Milford (a couple of sources have her as Lucy Buckingham rather than Sarah). Elisha's second wife was Hannah Platt. We are not yet sure whether she is one of the Hannah Platts born in Milford, or the Hannah Platt of Long Island who was the daughter of Epenetus Platt & Phebe Wood. On Long Island Elisha is associated with Huntington, where at least the last 5 of his 10 children were born, and with Southold, Old Orient, or Oyster Ponds. He is in the 1790 Census at Southold.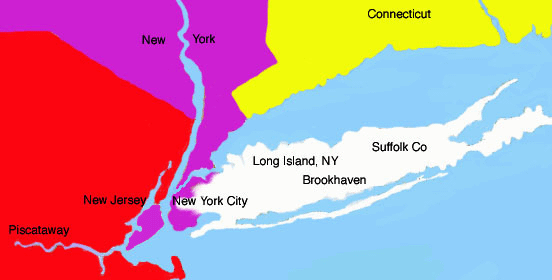 It may be worth noting that Southold is on the north coast of the island facing across the sound to the shore of Connecticut. Elisha's parents, William Gillette & Elizabeth Welch, and more of the family lived there in Milford on the south coast of Connecticut facing across to Long Island. They were not far apart.
Written histories of the Seventh Day Baptist church state that Rev. Elisha Gillette was the first to plant and pastor a church of that denomination on Long Island. Not a lot of people know that the Seventh Day Baptists, like the Quakers, were very strongly against slavery, and loudly outspoken against it, which often brought them into disfavor with slaveholders.

Elisha's children were:
1. Elisha who died 2 yrs old (by Sarah).
2. Elisabeth b. 1754 (by Sarah) died 5 yrs old.
3. Paul, b 1756
4. Sarah b. 1759 (married to Stowe at Milford, CT)
5. Fidelio Buckingham Gillette b. July 28, 1761, m Tabitha Dunham, moved to Cambridge, Washington County, NY.
6. Lucinda b. 1761?
7. Zebulon died age 11.
8. Probably by Hannah Platt, Phoebe b Jan 22, 1781, m Daniel Saxton of Patchogue, Long Island.
9. By Hannah Platt, Daniel Gano Gillette who became a Suffolk County Judge.
10. By Hannah Platt, ZEBULON b. Nov 4, 1788 Huntington, L.I.

Zebulon married Lucinda Avery of Blue Point, L.I. on Jan 25, 1807 at Blue Point. They owned at least two farms in the Town of Brookhaven. Zebulon died Feb 12, 1828 at Blue Point (Patchogue), Suffolk County, on Long Island.

Zebulon Gillette and Lucinda Avery had:

1. Gelston b 31 Oct 1807 in Brookhaven, married 1st Rozella Randall, widow of Salem Avery. Married 2nd (in 1832), Charlotte Marilla Terry. Gelston died at Patchogue 29 Oct 1850
2. EDGAR b. 19 Nov 1811, died Blue Point, 5 Sept 1893. We have some conflicting information on the children of this Edgar, and could use a "third opinion" from someone (citing source) as to their names and ages.
3. Lucinda b 17 June 1814, died young.
4. Lucilla b 7 Apr 1818, married Austin Roe in Aug 1836.
5. Mary b 27 May 1820, married Richard Howell 13 Sep 1876, died Patchogue 13 Sep 1876.
6. CHARLES ZEBULON (Chas Z. Gillette) b 12 Jan 1827 at Blue Point, married Phebe Edwards in Sayville on Feb 19,1851. Charles died at Sayville 1906.

Gelston who was b 31 Oct 1807 is in the August 16th 1850 Census as a farmer at Brookhaven. A grandson of his, wrote a note saying, "My grandfather was Gelston Gillette, Capt." We therefore speculate that Gelston may have been a captain in some capacity before entering upon farming when he inherited two farms at Brookhaven upon the death of his father Zebulon. Gelston's son "Phil" (Philander) is shown as part of the household at the time of the Census. After his teen years Philander went by "Phil" Gillette, and signed as such. In the Census, the whole list for the household reads thus:

Gelston Gillette, farmer
Charlotte Gillette (wife),
Philander Gillette, seaman, age 18
John Gillette, student, age 16
Isaac Gillette, age 14
Lucilla Gillette, age 8
Cornelia Gillette, age 5
Hannah Gillette, age 3

and Mary Ann Patterson, birthplace England, age 22.
and "Value of Real Estate owned" is given as "3000."

All 6 children are listed as having "attended School within the year."
As stated, Gelston married 1st Rozella Randall. Some records have written her as "Rozilla" and some as "Rogella Randall Avery." Genealogies we have seen by other researchers state that besides being the mother of Philander Dunham Gillette (Phil), she was also the mother of John. After Rozilla's death in 1834, Gelston married Charlotte Marilla Terry, and had the next 4 children by her, Isaac, Lucilla, Cornelia, and Hannah.

The 1850 Census, as stated, was on August 16th. Gelston died on October 29th of the same year, leaving Charlotte a widow with six children between the ages of about 4 to about 19. A friend in research informed us there is evidence ten years later that Charlotte may possibly be found married to a man named Moore, but, we do not know when between 1851 and 1860 that marriage occurred.
The 1832 birth of Philander at Brookhaven is confirmed later by the same 1850 Census of the district, in which Philander appears as the 18 year old son of Gelston, and, as stated, is still living in that household. 1832 is again confirmed years later, after his death, in his Widow's Declaration for Pension, which states him to have been 58 in 1891. Philander Dunham Gillette was named after Philander D. Gillette who was born Jan. 6, 1793, one of the children of the above-mentioned Fidelio Buckingham Gillette & Tabitha Dunham who became residents of Washington County, NY.
As mentioned, Philander and John were from Rozella. After her death in 1834, Gelston married Charlotte Terry, and had the rest.
Philander DUNHAM Gillette was born at Brookhaven/Patchogue September 27th, 1832. He appears to have been a seaman at Long Island. He eventually married one Ella Maloney.
As shown above, one of Gelston Gillette's brothers, Charles Zebulon (Chas Z. Gillette) was b 12 Jan 1827, and married Phebe Edwards, who was born in 1829, an 8th generation descendant of William Edwards who settled on Long Island sometime before 1651. Charles was a life member of the Suffolk County Agricultural Society. Charles Z. died at Sayville 1906.
The 1880 Census, taken at Sayville, shows Charles listed as merchant, and married to Phebe, and lists their children as:

Ida F. age 28

Charles E. "clerks in store", age 22 (so born about 1858)

Lulu P. age 12

and servant Mille Ann Jones


If you have any information that can be added to the above, even if only a fragment to help round it out, please share it by getting in touch with us through the contact link.


***********************************************

CAPT. HENRY GILLETTE


***********************************************




Background: Zebulon Gillette (born 1788) was one of the sons of Rev. Elisha Gillette.

Zebulon married Lucinda Avery at Blue Point.

Zebulon & Lucinda had the following 6 children:

1. Gelston Gillette (b. 1807)
2. Edgar Gillette (b. 1811)
3. Lucinda Gillette (b. 1814)
4. Lucilla Gillette (b. 1818)
5. Mary Gillette (b. 1820)
6. Charles Zebulon Gillette (b. 1827)


Note for references on other pages in this site, that Edgar is GELSTON'S BROTHER. Edgar was b. Nov. 19, 1811, d. at Blue Point Sept. 5, 1893. Edgar married 1st Jane Mills, and they had five children, including the subject of this biography, Capt. Henry Gillette.

The family of

Capt. Henry Gillette

as gleaned from

the 1896 book, "Portrait and Biographical Record of Suffolk County, (Long Island) New York," (subtitled, "Containing Portraits and Biographical Sketches of Prominent and Representative Citizens of the County"), Chapman Publishing Co., New York, 1896.

Capt. Henry Gillette was living in retirement in Patchogue at the time of this biography (1896).

He was born Aug 11, 1837 at Bayport, town of Islip, Suffolk County, on Long Island.

His parents were Edgar Gillette and Jane Mills, natives of the town of Brook Haven. The book says, "They were well-to-do farmers and the father (Edgar) died on his estate in the town of Islip, in Sept 1893, when eighty-three years of age." It continues, "Edgar Gillette was the proprietor of a large farm, embracing two hundred acres of excellent land, and here our subject (Henry) spent the first sixteen years of his life."

Henry was one of five children by Edgar and Jane. It names as his siblings, Edward S. Gillette (a farmer at Bayport), Jane E. Gillette ("who married Moses McMath, and occupies the old home place at Bayport"), Daniel G. Gillette who died in his eighteenth year, and Isaac S. Gillette who lived to be thirty eight.

After the death of Jane Mills, Henry's father Edgar married Amy Wicks. They had John E. Gillette who died at the age of twenty eight.

At age 17 Henry left the family farm at Islip and went to sea for thirty-five years, serving first in the duties of a boy, then second mate, and finally first mate on several vessles. At the age of twenty-one he was Master of the coasting vessle "Neptune's Bride" which made Atlantic crossings to London. For twelve years following, he held interest in the three-masted schooner "Moses B. Bramhall" and traded to the West Indies and Mexico. He owned the three-masted schooner "the Anna," and made one voyage with the barkentine "Abel Abbott."

May 24, 1862 Capt. Henry Gillette married "Miss M. Louise Moore, who, although residing then at Patchogue, was a native of Norwhich, CT, and was the daughter of Capt. E. T. Moore, an old and respected resident of this place."

Webmaster's note: Due to two (2) "Captains" now being discussed in the book (Capt. Gillette and Capt. Moore), we find a paragraph to be less than clear regarding WHICH captain's children are being discussed. We leave it to the reader to decide. Here is the unclear part of the paragraph:

Miss M. Louise Moore "is the daughter of Capt. E. T. Moore, an old and respected resident of this place. To the Captain and his wife were born the following named children: Ada M., who married Bryant T. Hudson of Patchogue and died September 5, 1887 when twenty-two years of age; Edwin Forrest Preston, who departed this life when in his sixth year, and George B., an etcher by trade, now engaged in the steel tape factory of Roe & Sons of this place. The family occupy a commodious home on Main Street, where the parents have lived for twenty-two years."

Are those children the children of the Moores, or of the Gillettes?

A note from another source may provide the above-mentioned Edwin Forrest Preston's namesake: The Preston Genealogy states on page 270, "Dr. Edwin Forrest Preston, son of Dr. Wm. Storrs & Ann (Snell) Preston, b. Apr. 19, 1841; mar. at PATCHOGUE, NY, Dec. 1, 1864, LUCILLA OPHELIA GILLETTE, who died at Mexico, N. Y., Jan. 25, 1865."

Returning to the "Portrait and Biographical Record of Suffolk County, it cites Capt. Gillette as a Mason holding membership in the South Side Lodge," and being connected with "Suwassett Chapter, R. A. M." His wife is given as "a devoted member of the Methodist Episcopal Church." Of her husband it states, "although he does not belong to this denomination, he is liberal in his support of the same." It continues, "Mrs. Gillette is a member and takes a keen interest in the Women's Christian Temperance Union."

The Captain, now retired, "keeps a good horse" and "a good yacht" and still "often sails out to the ocean and spends a day catching blue fish."



***********************************************


MORE LONG ISLAND GILLETTES


***********************************************



CHARLES EDGAR GILLETTE



Charles Edgar Gillette was born in Suffolk County, almost certainly the Brookhaven/Patchogue part of the county. We are seeking to learn exactly where. The death record for him states that he was born Feb. 28. 1892. We expect it to be confirmed that his father was named Daniel Gillette, and that in Charles' youth he worked with his father Daniel in the Oyster trade.

We do not know if this is the same Daniel Gillette, or another, but in deaths reported by the "Long Islander," a Huntington newspaper between 1891-1900, it shows a Daniel Gillette, "Aremains ..... conveyed from this place [Commack] to Bayport last Thursday [16 August 1900] where the funeral was held".

Charles Edgar Gillette was known by "Eddie" in his childhood, a take-off on his middle name. As a young man he started going by "Edgar." It is also almost certain that a brother of Charles Edgar Gillette was Howard G. Gillette, who would almost certainly have also been working with their father Daniel in the Oyster trade. Since we have Charles as born in 1892, we might find his brother born within say 5 years of then, earlier or later.

Charles Edgar Gillette, or "Edgar," went to Modesto, California, probably between 1906-1912, and in 1913 married LeMira Stella Graham (known always only as "Stella"), a daughter of Harvey M. Graham. At Modesto, "Edgar" and "Stella" Gillette had five children, Bernard, Lucille (who married a Wyeth), Ivan H. Gillette, Florence (who married a Santos), and a daughter named Verle. There are numerous descendants of "Edgar" Gillette in that region (the city of Modesto in Stanislaus county), today.

The afore-mentioned Howard G. Gillette married someone whose identity we hope to learn, and they had four sons;


1. Howard Daniel Gillette, Sr.

2. Lawrence Gillette

3. William Gillette

4. Stanley Gillette. We had some brief communication with Stanley Gillette at one time, and some of the above helpful clues were provided by him.


The afore-mentioned Howard Daniel Gillette, Sr., of course was the father of Howard Daniel Gillette, Jr., who is a Patchogue resident. He is of course Stanley's nephew. We are appreciative of information shared with us by him. "Howard Daniel Gillette, Jr." is often written as "H. Daniel Gillette," but is known by one and all as "Daniel," or "Dan" Gillette.





BIOGRAPHIES