This webpage is about the ancestor of many Gillettes, the William Gillette who was residing in Milford, Connecticut in 1722, married to Elizabeth Welch.
There is conflicting data about William's birth. Some of his descendants have accepted the tradition that he came from France as a Huguenot minister in 1688. This "1688" tradition presents some difficulties, not the least of which is the math involved when his age is considered, and his marriage date, and the dates of the births of his children. Others believe those who have said that he was born in Wethersfield, Connecticut in 1699, the son of John Gillette and Sarah Tryon.
For the consideration of those who hold the "Huguenot" view, it may be worthwhile to note that the John Gillette just mentioned as possibly William's father, was descended from an earlier "Rev. William Gillette," (father of Jeremiah, Jonathan and Nathan Gillette) whose family background (though he himself was in England) IS believed by most to be (earlier) from French Huguenots. Do you understand? This fact could have provided fertile ground for an easy mixup. In other words, the mixup could have simply occured because two men in the same family were named "William." Descendants may have had info passed down to them that this family's ancient background was Huguenot, plus some may have heard that indeed "our ancestor was named William Gillette." But, they could have taken the William in 1722 Milford to be "the" Huguenot ancestor, when in fact the earlier William was "the" ancestor William who was of Huguenot background. The "earlier" William to whom I refer is Rev. William Gillette, Rector of the church at Chaffcombe, England, who was the great grandfather of the above-mentioned John. On the other hand, maybe we will yet find out that the Milford William was indeed himself a Huguenot from France, and the mistake was thinking him to be the William born in Connecticut in 1699 (son of John & Sarah).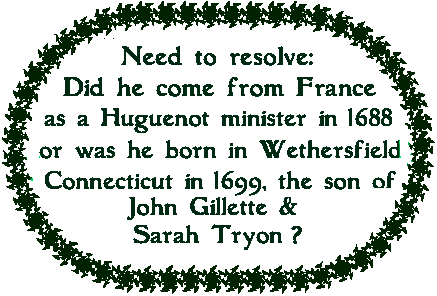 Regardless of where this "1722 Milford William" was born, and where he spent his youth, it is a fact that he was in Milford in 1722 and married Elizabeth Welch there in that year.
All researchers on this William can use that as a reliable "anchor," whether they have received the "born in Connecticut in 1699" tradition or the "adult Huguenot from France in 1688" tradition.
* The close association between Wethersfield and Milford: *
Those researching "William Gillette of 1722 Milford" will indeed continually run into associations with Wethersfield. Researchers might do well to realize that from the earliest days of the settlement of Milford, many of its families were intimately connected with families in the town of Wethersfield. On 6/5/04 a genealogy page at
http://home.cogeco.ca/~jim.tibbals/tree.htm
was sharing information on the Tibbals family in America. It said the site was "edited in 1985 by Jim Tibbals from letters written by Ethel Tibbals Osborne in 1966," and in the contact info it said "send e-mail to: jim.tibbals@ cogeco.ca" (Type that with no spaces).
A particularly useful "Milford/Wethersfield" comment from that page said,
"Of the original settlers of MILFORD, Thomas Tibbals, Thomas Tapping, Robert Treat, John Sherman, John Fletcher, Geo. Hubbard, Richard Miles and Andrew (last name missing), were FROM WETHERSFIELD, CONNECTICUT."
A little digging off on the side does indeed show that in the 1700s many Milford people had Wethersfield cousins, and that numerous Milford residents did in fact come there from Wethersfield.
The William Gillette we have here under discussion may have been just one more instance of that, and may indeed have been the son of John Gillette, as some genealogists have asserted.
Various researchers of this "Milford" William, and some of his descendants, have him written as mentioned above as "Rev." William Gillette, a clergyman. There is brief mention of him as "Rev. William Gillette, M.D." in a book by L. A. Platts. Some records referred to him as a "Dr." William Gillette, a medical doctor, or a religious one, as in "Doctor of Divinity" and so it could end up being written as "William Gillette, D.D.," or, "William Gillette, M.D.". Some of those who have received the "Huguenot from France" tradition, have it that he was both a practicing physician and a clergyman, and that in times of religious persecution he was able to visit members of his flock in France using the excuse that he was their visiting doctor. Some have it that he worked also as a blacksmith in Milford, CT in the 1720s.
So, it might be wise to keep an eye out for "blacksmith" and "doctor" or "Dr." or "M.D." and "Rev." when doing research on him.
He married Elizabeth Welch at Milford, November 14, 1722. She was the daughter of Thomas Welch and Elizabeth Peck.
The research of Flora Clark states, "He lived in Milford at least from 1722 to 1756, but in 1760 was living in Huntington, N.Y., where his son Elisha was a minister. I have he d. Milford June 5, 1780, tho said to have lived to be 92."
Note for future reference the discrepancy of death at 92 with death in 1780 which would have made him 80 years old. Neither of course is compatible with him coming from France as a full grown adult in 1688, already having been a pastor, for years.
Researchers also need to distinguish between the towns of "Milford" and "NEW Milford." Milford is in New Haven County. NEW Milford is up in Litchfield County, north of the town of Brookfield and west of Waterbury. Milford, down in New Haven, is sometimes referred to as "OLD Milford" for clarity, but that is not actually the town's name. Our subject, William Gillette, spent time in both of these towns, so keep your Milfords straight.
Most researchers agree that this William Gillette & Elizabeth Welch had at least the following nine children:
1. Elizabeth. b. Nov. 5, 1723 at Milford, married Giles Oviatt of Milford. A known son of theirs was William Oviatt.
2. William bp Mar. 14, 1725, died at age 7 months, Oct 19, 1726.
3. Another William, b. ca 1727 mar 1st at Milford Sept 7, 1749 to Phebe Terrill b about 1726, daught of Daniel Terrill & Zeruiah Canfield. Married 2nd, Rebecca Wilkinson Daught of John Wilkinson & Hannah Langstff.
4. Abel. One record says "b 26 Jan 1729/30" and another says "b Jan 21, 1723-29 bp Jan 26 1729." Resided at NEW Milford 1760, member St Johns Episcopal church, there. He is in the 1790 census there.
5. John, bp Mar 7, 1731 at Milford, baptized on 7 Mar 1731 in First Congregational Society, Mar on 5 Aug 1753 at Milford Comfort Plumb of Milford, Comfort was daught of Benjamin Plumb & Elisabeth Camp. A known son of John & Comfort was Benjamin Gillette.
6. Elisha (Rev. Elisha Gillette) b Aug 17, 1733, d May 1830 according to Griffins Journal, married 1st to Sarah or Lucy Buckingham at Milford, Apr 13, 1753. Note that some records call her Sarah and some say Lucy. This "Miss Buckingham" is also said by some records to be daught of John Buckingham & Kesiah Clark. Elisha married 2nd "widow Hannah Platt" some time before 1781 and the family lived from then on in Suffolk County on Long Island. But another account wrote that "ELISHA 'JILLIT' WIDOWER m. HANNAH PLATT, 10 SEPT 1777 @ HUNTINGTON FIRST CHURCH." If this is correct it provides the alternative possibility that Elisha was the widowed person rather than Hannah Platt. of course both parties could have been widowed.
In any case, between his first and second wives Elisha was father to ten children, Sarah, Fidelio, Lucinda, Elisha, Elizabeth, Paul, Phoebe, Daniel, baby Zebulon, died, 2nd Zebulon.
(see our webpage on Rev. Elisha Gillette)
7. Zebulon, bp Aug 17, 1735, d age 1 yr 30 mos.
8. Another Zebulon, born abt 1737, d at Milford in 1810 ae 73. Married Mary Bryan who d Milford 1829. Mary was daught of Ebenezer Bryan & Abigail Smith. Zebulon might have been in Woodbury in 1785, but in 1790 Milford census. Zebulon & Mary had Bryan, William, Elisabeth, and Mary (or Polly).
9. Sarah b 12 Apr 1745, d 11 Apr 1746.
Although the town of Milford in New Haven County was William's home, it appears he had an extensive stay with his son Elisha's family in Huntington, Suffolk County, on Long Island, NY. He is recorded as there in 1760, and he apparently also left his footprint in NEW Milford, in CT and in Piscataway, New Jersey.
Why Piscataway? His son Elisha Gillette founded the Seventh Day Baptist Church on Long Island. This church was actually a "branch" of the Piscataway, NJ church. Stated differently, the church at Piscataway was the "mother church" to Elisha's church on Long Island. Elisha was a member of the Piscataway church. Although born in Milford, CT, Elisha settled on Long Island around 1750, all the while maintaining active association with the Piscataway church. He is found present there in 1769, although a resident of Suffolk County on Long Island, NY. He was ordained to the ministry in the Seventh Day Baptist church at Piscataway in 1786. He went on to found the church at Long Island, but always remained a member of the Piscataway church even after the Long Island church was established, and regularly paid visits to the mother church at Piscataway, attending all of the official ministerial functions, church conventions, and etc.
It would seem possible that William's presence in Piscataway was due to Elisha's work there. In other words, William might simply have gone to where his son was. Perhaps Elisha was caring for his father in William's latter years. But another possibility to consider is that William was taking a "religious" interest in his son's ministry. Several historical sources call William Gillette a clergyman who believed in the seventh day (Saturday) sabbath, as did, of course the Seventh Day Baptists themselves. In fact at least one book calls him a Seventh Day Baptist minister. If that is so, we might suppose that it was not necessarily William "aligning with" Elisha, but possibly that Elisha was brought up in his father's beliefs.
The death & burial of William Gillette (husband of Elizabeth Welch) is said by some to have been at Milford, but said by others to have been at NEW Milford. Yet others say Lyme, CT: In the book Memoir of Rev. Daniel Holbrook Gillette by his brothers, W. B. Gillette, of Piscataway and Rev. Abram Dunn Gillette, of Philadelphia, they write of their ancestor, this same William Gillette. They also are among those who thought he was a Huguenot from France, and, that he observed the seventh day as the sabbath, as well. And they wrote (on page 4) "Dr. Wm. Gillette died at the advanced age of ninety, and lies buried in LYME, Conn."
We hope that new research will be done on this William Gillette, solving the discrepancies, CHIEFLY the contradiction of his being born in Wethersfield, CT vs his coming from France as an adult, and filling in the gaps.
MORE MILFORD BACKGROUND
LOOKING IN WETHERSFIELD
REV ELISHA GILLETTE
GILLETTES IN SEVENTH DAY BAPTIST CHURCH
HOME


.
---