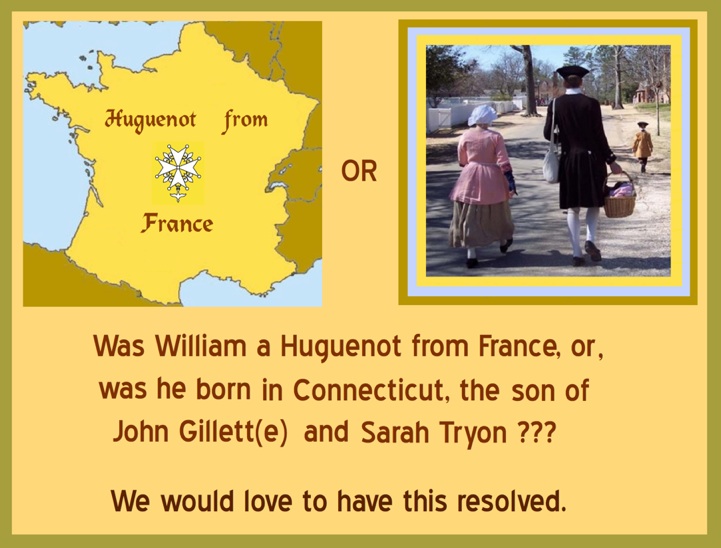 HERE'S THE PROBLEM:
Some of the families descended from William Gillett(e), that is, the William Gillett(e) who was in Milford, CT, in 1722, and was married to Elizabeth Welch, have received from their families, and/or from genealogy sources the assertion that this William Gillett(e) came to America (Connecticut) as an adult, a Huguenot pastor who fled here from the persecutions in France, while OTHER families descended from this same William Gillett(e) have it that this very same William Gillett(e) was born in Connecticut, the son of John Gillett(e) and Sarah Tryon!

That's quite a problem: They cannot both be true.

It is not helpful, doesn't help prove what is true, when people of either "belief" simply dig in their heels and take a stand, without evidence or proof, and just publish as supposedly "the facts" the opinion they have chosen, or have believed.

If there is an "opinion group" that publishes the assertion that the Chinese were the first to discover Tahiti, and there is also an "opinion group" that, quite the contrary publishes the assertion that, no, the Phoenicains were the first, and yet, NEITHER "opinion group" is kind or considerate enough to share with anyone any information that contributed to forming that opinion, then no one is contributing any KNOWLEDGE. It not only does no one any good, but may actually do harm. If the numbers grow, of people who, without evidence, simply choose and pass on the opinion that William came from France, or, that William was born in Connecticut, the stage is simply being set for greater numbers of people to be found WRONG in the future, and the "family trees" they have built up, to fall apart.

It is BETTER for everyone to know, up front, that there is a giant DISCREPANCY about William's BIRTH (both parentage and place), rather than building a structure on a faulty foundation that may crumble later on.

We need people who will publish exactly WHY they believe what they believe, and exactly WHY they do not believe the OTHER. We need people to STOP publishing one view or the other (which only makes more work for future researchers), and to START giving their reasons WHY they think the one opinion is superior to the other.

Everyone who publishes the existence of this William Gillette, Gillett, Gilet, Jillit, etc., who lived in Milford, CT in 1722, owes it to their readers, either to warn them that there are contradictory beliefs about him out there (and state what that opposing opinion says), or, to INCLUDE in their published material about William, what book they drew their info from, or what genealogist, or what other website they took it from, or what relative in their own family the tale was told by, etc. Those coming along and READING one of these assertions about William (from France or from Connecticut) should be able to read what the REASONS are, for believing it. Do you claim (and publish the claim) that William was born to John Gillett & Sarah Tryon at Wethersfield, CT? That's fine, but would it hurt to share where you "GOT" that belief from? Likewise, do you claim (and publish the claim) that William was a Huguenot pastor who came here from France circa 1688? Alright, but would you please tell us WHY you think so?

Do the genealogical world a favor and share your SOURCES on William. Don't just contribute to the buildup of an opinion that future researchers are going to have to work that much harder on proving.

There is A KNOWN PROBLEM here, a big DISCREPANCY, and "good genealogy" calls for it being ADDRESSED and not just passing unsubstantiated "trees" on to more and more people.


---


I will try to set forth here what I know, on both sides of the discrepancy. I even have a couple of theories as to when and where and how certain mistakes may have happened and how certain opinions got started.

First let me name the primary sources that most of the information about our "1722 Milford, CT" William Gillett(e) comes from. Let me be CLEAR in saying that these sources are listed here (at first) with absolutely NO (zero) inference or suggestion as to whether I think them to belong to the "ACCURATE" or the "INaccurate" category. Take the attitude that any particular one may be EITHER until further discussion, a bit farther on. They are listed HERE for no other reason than the fact that large numbers of genealogists have USED them, CITED them, and gotten their opinions about our William Gillett(e) FROM them, PERIOD. When it comes to present-day genealogists, websites and posts and etc "out there" stating or showing "WHO" this William is, that is, where he came from, probably 99.9% of these people "GOT" their opinion or "info" from one of these sources. You or they may not KNOW that fact. You or they may have simply gotten the "info" from someone who had gotten it from from one of these, without knowing that THESE were the sources that THEY used. Let me repeat, that "analysis" and discussion of these sources will follow later, below. This just LISTS them:


Flora S. Clark, (genealogist/author) Gillett Manuscripts (Elkins Grove, Pennsylvania: Privately printed, 1963), at Onondaga County Public Library, Syracuse, New York. Flora Clark said that our William was the son of John Gillett & Sarah Tryon. Flora Clark was contemporary with, and exchanged work back and forth with, Donald Lines Jacobus. More discussion, below.
Donald Lines Jacobus (1887-1970), the founder and president of TAG (The American Genealogist) magazine and author of Genealogy as Pastime and Profession, 1930, and History and Genealogy of the Families of Old Fairfield. Jacobus published in TAG, "The 'other' Gilletts, TAG, v. 25, July 1949, 174-191; erratum, v. 27, 99, sometimes written thusly: "The Other Gilletts" by Donald Lines Jacobus, "The American Genealogist", Whole Number 99, July 1949, Volume XXV, Number 23. Jacobus wrote on the matter AGAIN in The American Genealogist, January 1950, Vol. 26, #1, pgs. 52-3. Donald Jacobus and Flora Clark knew each other and used each other's materials. Note, that the Jacobus articles here mentioned are not specific to William Gillett(e) of 1722 Milford, per se, but to the family tree connected to Jeremiah Gillett(e) who was a brother of Jonathan Gillett(e) and Nathan Gillett(e), the immigrants (1630) of whom so much has been written. By the "OTHER" Gilletts Jacobus means those descended from the OTHER brother Jeremiah, which "branch" Jacobus felt had been overlooked. And, the pertinence to our "1722 Milford" William is that Jacobus (and Flora Clark) place William in that (Jeremiah) line.
The book, Families of Early Milford, Connecticut, by Susan Emma Woodruff Abbott. Susan Woodruff Abbott. Most genealogists reference her as "Susan Woodruff Abbott". In her credits and attributions for her book, she acknowledges the help of "Donald Lines Jacobus' Ancient Families of New Haven and History and Genealogy of the Families of Old Fairfield."
Are you seeing it yet? Flora Clark, Donald Jacobus, and Susan Abbott are, all three, pretty much the SAME "fountain" or source, insofar as they all drew FROM one another. When that is seen, it informs the researcher that, citing one of them is almost the same thing as citing the others. If a researcher tells you that his "authorities" are Jacobus and Clark and Abbott, you need to realize that they are not citing three (3) different sources, but really just one (1), for if those are each getting their info from the other two, and repeating it, what's the difference? Very few researchers will pick apart and analyze HOW this one of them, or that one, ARRIVED AT their conclusions. The researcher of GILLETT(E) genealogy would be well-served to find out what, if anything, each of those genealogists (Jacobus, Clark, Abbott) used as THEIR sources besides EACH OTHER. They DID consult numerous sources. But my point is, few today care to find out HOW they reached the conclusions that they DID. People simply name-drop either Jacobus, Clark or Abbott. Well, that's all the same thing, unless you dig into what other sources each of those people USED, and see for yourself whether they actually represent separate independent authorities.
Next, we have sources OTHER THAN than the Clark/Jacobus/Abbott "chorus": I call it the "Elisha's family account." One of the sons of our William, that is, of the William Gillett(e) who resided in Milford, CT in 1722 and who was married to Elizabeth Welch, was a pastor named Rev. ELISHA Gillette. The FAMILY that branched off of Elisha Gillette seem to uniformly have accepted the assertion that Elisha's father (the William we have under study) came to Connecticut around 1688 from France, where he had been a Huguenot pastor. The evidence as I see it suggests that Elisha HIMSELF believed this of his own father, or, that, at least, that story is traceable to him (Elisha). We will discuss and explain this more in-depth, below. But, know this: BOOKS that were published stated these things (that William was a Huguenot pastor from France). If you've been following, you realize, of course, that this radically CONFLICTS WITH William having been born in Connecticut to John Gillett(e) & Sarah Tryon, as per the Clark/Jacobus/Abbott material. More later, but, Elisha Gillette, a son of William, was a pastor in the Seventh Day Baptist denomination. And chroniclers of the history of that denomination wrote accounts, not only about Elisha's life and ministry, but also wrote details about William Gillett(e), Elisha's father. And those books uniformly repeat the assertion that William was a Huguenot pastor from France. Furthermore, the FAMILY of Elisha Gillette had people in it who wrote books. They LIKEWISE wrote that the ancestor of their family, that is, the father of Elisha Gillette, fled France circa 1688, as a persecuted Huguenot pastor. Rev. Abram Dunn Gillette, a nephew of Elisha wrote the "Huguenot pastor" belief, as did Daniel Gano Gillette, Abram's son. The context of those books makes it inescapeable that this belief was held by Dr. Fidelio Buckingham Gillette, a son of Rev. Elisha Gillette, and seems to have been believed, as I said, by Elisha himself. It is very difficult to dismiss out of hand the belief of an entire family, with much of their testimony coming apparently from the generation that actually KNEW William Gillett(e).
Now, above I said that we would examine and discuss these conflicting claims. We will. I have a "theory" that I think to be "not unreasonable" as to how some intelligent misunderstandings may have come about: In "preview" I'd suggest this: "William" is not only a very common given name, but, it was a name common in this Gillett(e) family. Furthermore, even if you entirely SKIP or set aside the beliefs of "Elisha's family" about their ancestor being a Huguenot from France, and look only at the "born in Connecticut" belief, something inescapeable looms in front of us. Even the believers in the opinion that "our" William was born in Connecticut to John Gillett(e) & Sarah Tryon believe that this family's ANCESTOR farther back was a HUGUENOT PASTOR FROM FRANCE NAMED WILLIAM!
Get it? BOTH "opinion groups" have belief in an ancestor who was named WILLIAM and was a Huguenot pastor from France. But, the "Elisha's family" bunch thinks that that description attaches to the William who ended up in Milford, CT in 1722, married to Elizabeth Welch, while the "William born in Connecticut" bunch looks several generations earlier, and attaches the "French Huguenot" business to an EARLIER progenitor named William, that is Rev. William Gylet (Gillett, Gillett(e) etc) who was the father of the immigrants in the 1600s, Jonathan and Nathan and Jeremiah Gillett(e). I hope you are not too confused. But the point is, ALL of these Gillett(e)s believe they track back to a Huguenot pastor named William Gillett(e). They just differ as to whether the "Huguenot" is the 1722 Milford William, or the William generations earlier in Europe (who, however, did not come to America. Only three or four of his sons did). The question then arises, Did the whole family of ELISHA Gillette get their "Williams" mixed up? Did they mistakenly assume that, since they came from an ancestor named William who was a Huguenot, then the "William" in Milford, Elisha's father, must have been that Huguenot? It would be simple enough for such a mistake to occur: If Elisha told all his friends, acquaintances and loved ones that his "ancestor" was named "William" and was a Huguenot pastor from France, but then, Elisha died, and his biographers saw that his FATHER was a Gospel preacher named Rev. William Gillett(e) (which was true), might not they (the biographers, including family) have assumed that THIS Rev. William Gillett (Gillette, Jillit, etc) was who Elisha had MEANT when he spoke of his Huguenot ancestor William? If they did, they accidentally wiped out several generations of genealogy, by conflating the earlier William with the more recent William. Makes sense, right? The only thing that makes that seem a "stretch" is that the evidence really does seem to suggest that Elisha HIMSELF was the SOURCE of the "William, Huguenot pastor from France" info, and it seems unlikely that Elisha would have been so confused about his own father. In fact the records appear to suggest that Elisha and his father William even worked together in church work, ministry, sharing common beliefs and commitments. In other words, William was in his son's life, and was not a mystery to him, as might be with some who did not know their parents well. Then, if there was a misunderstanding, it would not be Elisha's, but rather the misunderstandings of Elisha's KIN and his biographers in his denomination, the Seventh Day Baptists (for they have perpetuated in books and historical accounts the report that Elisha's father was a Huguenot minister who came here from from France).
---
---
Links
BIOGRAPHIES:
GILLETTE MESSAGE BOARDS:
BIOGRAPHIES:
FRONT ENTRANCE TO THE SITE: