This page is about Rev. Elisha Gillette and his immediate family.
Elisha was born in Milford, Connecticut on August 17, 1733, one of at least eight other children. His parents were William Gillette and Elizabeth Welch, who were married there in 1722.
There are numerous accounts that say Elisha's father was a Christian minister, and it seems likely that he was closely associating with Christians that believed in worshipping on Saturday, believing it to be "the seventh day" mentioned in the Bible as the "sabbath."
One written history of the Seventh Day Baptist denomination refers to William as being a Seventh Day Baptist minister himself, but another account suggests that while he was a believer in the "Saturday sabbath," he was not a member of the Seventh Day Baptist denomination, but was of the "sabbatarian" view before meeting people of their group. In fact one account credits William Gillette with being the one who converted to the "sabbath" view a man named Abel Noble, who went on to become one of the primary founders of the SDB denomination.
In any case, it does seem evident that Elisha's father William was a "sabbath-keeping" minister who eventually associated closely with SDB people. In light of the fact that the Elisha we have here under discussion went on to be ordained in the Seventh Day Baptist denomination, becoming "Rev." Elisha Gillette and worked as a clergyman for the advancement of that church, we cannot help but imagine his father having been an inspiration to him in his life choices, growing up.
At Milford on April 13, 1753 Elisha married a certain "Miss Buckingham" whom he had known all his life. Both were born in Milford in 1733. We are still researching whether she was Lucy or Sarah. Some records name her Sarah and others Lucy. There are some that say she was Sarah Buckingham, the daughter of John Buckingham & Keziah Clark, and some that say she was Sarah Buckingham the daughter of Nathaniel Buckingham and Sarah Smith. And of course "Lucy" Buckingham is a whole different problem.
Elisha's ministry was under the auspices of the Seventh Day Baptist church at Piscataway, New Jersey. He was still serving that church when he and his young bride moved to Suffolk County on Long Island. His work was centered in Suffolk county in Huntington, Patchogue, Southold and Orient (formerly known as Oysterponds). Elisha planted and pastored the first Seventh Day Baptist church on Long Island, at Oyster Ponds. The church at Piscataway was the "mother church" to Elisha's church on Long Island. Elisha was a member of the Piscataway church. In 1769 he went to Piscataway from his hometown of Milford, CT., and was ordained at Piscataway in 1786. He went on from Piscataway to found the church at Long Island, but remained a member of the Piscataway church even after the Long Island church was established, and regularly spent time at the mother church at Piscataway.
It is possible that his father William had some relationship to Elisha's religious work. One source says that in 1760 William was "living in Huntington, N.Y., where his son Elisha was a minister." (Huntington is in Suffolk County on Long Island.) It is probable that William was taking an active interest in his son's religious work, or just spending time with kin there, and not being "cared for in his latter years," because the same source that has him in Suffolk County in 1760 has him in New Milford in 1780. NEW Milford, up in Lichfield County, CT, is not to be confused with Milford down in New Haven County, CT. One of Elisha's brothers, Abel Gillette, lived in New Milford, and was a "warden of St. John's Episcopal Church" there, and Abel's sister Elizabeth was in New Milford as well, married to Giles Oviatt. It would appear that William travelled about and spent time where his children and grandchildren were.
Elisha's first wife, Sarah (or Lucy), bore him children, the first, named Elisha, in 1754, followed by Elisabeth, Paul, Sarah, Fidelio, and Lucinda.
Apparently Sarah (or Lucy) passed away sometime between 1760 - 1779. Elisha married his second wife, Hannah Platt, sometime before 1781. Others and myself previously thought that this Hannah Platt was a widow, and that Platt might have been the name of her deceased husband. And so, there are references in circulation, to Elisha marrying the "widow Hannah Platt." I now believe this to be an error. In looking at as many references to them as I can, I believe that the mistake got going by an early researcher attributing an abbreviation for widower, ("w" or "wid" or "widow.") wrongly to Hannah, when it meant Elisha. For instance, one record quite plainly reads, "Elisha Jiliitt Widower m. Hannah Platt, 10 Sept 1777 at Huntington First Church." But one more difficult to decipher, simply lists the union as "Gillett, Elisha wid. Hannah Platt," and I believe that is how the incorrect reference to a "widow Hannah Platt" got into use. So, I expect to find confirmation that Platt was Hannah's maiden name.
It is not certain if Elisha's 7th child, Zebulon, was from his first wife or his second. But he died at age 11. Another child, born later, will also be named Zebulon. The following list shows Elisha's children from the first marriage, followed by those from the second.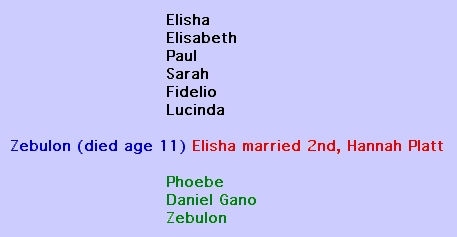 Phoebe, Daniel and the last son, Zebulon, were all definitely from Hannah.
Elisha's ten children were as follows:
1. Elisha ("junior") b 1754; d 22 May 1756
2. Elizabeth, b. 1754 (by Sarah/Lucy) died 16 Sept 1760 in her fifth year. Buried in St. John's Old Churchyard Cemetery. Record says, "GILLET Elizabeth, dau of Mr. Elisha & Mrs. Sarah, d 16 Sept 1760 in 5th yr."
3. Paul b 1756
4. Sarah b 1759 at Milford, married on Sept 11, 1783 to Sgt John Stowe at Milford, CT. Sarah died at Milford Jan 2, 1838.
5. Fidelio Buckingham Gillette b. July 28, 1761, m Tabitha Dunham, moved to Cambridge, Washington County, NY. Another source "out there" gave Fidelio's birth as 1757.
6. Lucinda b 1761
7. Zebulon (died age 11)
8. Phoebe, by Hannah Platt, Phoebe b Jan 22, 1781, m Daniel Saxton of Patchogue, Long Island.
9. Daniel Gano Gillette, by Hannah. Some say he was Gano Gillette. But this is probably the Daniel Gano Gillette who became a Suffolk County Judge.
10. Zebulon (the second of the children so named), by Hannah Platt, Zebulon was b. Nov 4, 1788 at Huntington, L.I. Zebulon married Lucinda Avery of Blue Point, L.I. on Jan 25, 1807 at Blue Point. Zebulon died Feb 13, 1879 at Patchogue, Suffolk County, on L.I., NY.
Zebulon & Lucinda had the following five children: 1. Gelston Gillette (married 1st Randall, 2nd Terry), 2. Edgar Gillette (married 1st Mills, 2nd Wicks), 3. Lucinda Gillette, 4. Lucilla Gillette (married Roe), 5. Mary Gillette (married Howell), 6. Charles Zebulon Gillette (married Edwards).
Elisha & family were listed in the 1790 Census at Southold in Suffolk County on Long Island, and in the 1800 Census, in Brookhaven township in Suffolk County.
Some sources state that Rev. Elisha Gillette died in May 1820 at Patchogue in Suffolk County at the age of 87.
ELISHA'S FATHER, WILLIAM
LONG ISLAND
GILLETTES IN THE SEVENTH DAY BAPTIST CHURCH
HOME:











































---